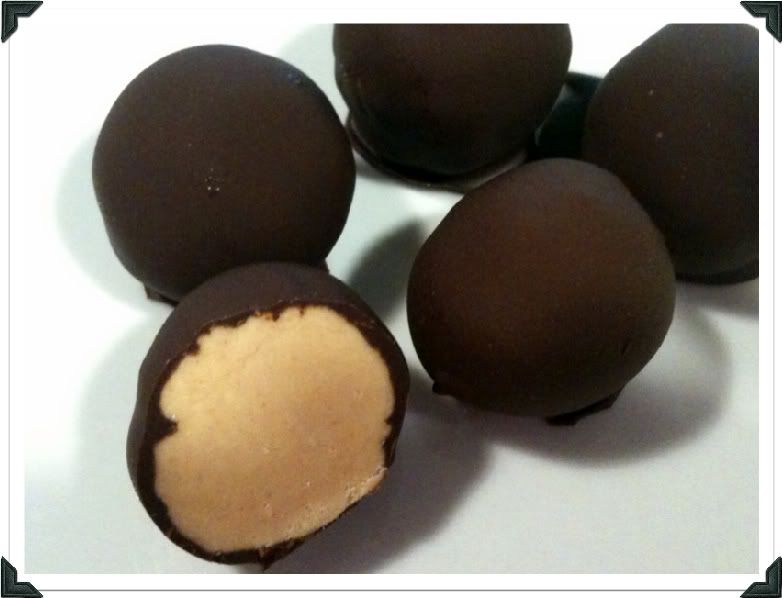 fully dressed little peanut butter buckeyes
Even though most of our street celebrated Hanukkah, there were neighbors and friends who brought us homemade holiday food gifts and by far the favorite was chocolate peanut butter fudge. If candy were currency we kids would have been able to pay off the mortgage with the amount that we hoarded. We were allowed to buy candy with our allowance, but rarely was any sweet stuff purchased by our mom; Brach's Bridge Mix was for, well, bridge games.
Halloween was the most important holiday of the year and none of us failed to fill up pillowcases filled with goodies. We were only interested in the good stuff which would have been by today's standards, enormous chocolate bars and peanut butter cups.
At an early age I fell in love with the partnership of anything peanut butter and chocolate. It was limited to Reese's Peanut Butter Cups when I could afford them with my allowance.
Syracuse is not all that far from Ohio yet I never knew a buckeye was anything but a tree thing until I saw the recipe on
Smitten Kitchen
. How did this confection remain off my sweet tooth radar? For God's sake – it has peanut butter and chocolate, two of the holy grail candy ingredients.
Smitten Kitchen was borrowing from the
Baked boys
and that version has cream cheese and graham cracker crumbs. I wondered how the origninal Buckeye candies were prepared.
A Google search came up with a zillion recipes and mixed reviews as well as several techniques.
The common complaints turned out to be rather simple. People had an expectation that mixing up butter, peanut butter, powdered sugar and flavoring and covering it with chocolate could be done by a door knob.
Even the most simple looking confection requires a little skill, practice, and attention to detail. Chocolate seizes – it doesn't harden, or the inside mixture crumbles if too dry, or oozes condensation if too wet and messes with the chocolate coating. All things chemistry have to coincide to make it work. Though it isn't rocket science, it is the kind of thing that takes a bit practice and patience.
I might find darker creamy peanut butter next time. When the ingredient list is that small, the main character, peanut butter, needs to be stellar and taste deeply roasted. I used organic (ordinary) peanut butter from Whole Paycheck and it isn't peanut-ty enough. But that might just be me.
But about one thing everyone agrees - be careful. They're addictive.
happy little (linty) buckeyes
Peanut Butter Chocolate Buckeyes
3 cups sifted organic powdered sugar
1.5 cups creamy peanut butter
1 teaspoon vanilla
1 stick unsalted butter, softened
1 teaspoon flaked salt (you want salt that will dissolve)
1 bag (12 ounces) bittersweet chocolate chips
1 tablespoon Crisco or other shortening
Prepare a large baking sheet with a silpat or parchment. Sift the sugar into a large mixing bowl (I used a stand-mixer). Drop in the peanut butter and butter. Set the mixer on low until the sugar is incorporated and then turn it up just until everything is fully mixed. With the mixer running on low, slowly add in the salt and vanilla.
Using a tablespoon scoop, place on the cookie sheet until you've used all the mixture. Form into round balls. Keep your hands clean and a little moist with water and the rolling will go smoothly. If you start to build up the mixture on your hands, the balls will get slightly linty (see photo).
Once done, set the pan in the freezer. You can leave it overnight but you will want to cover it with foil. Right before dipping, in a small bowl over a tiny pan of simmering water (tiny tiny simmer!) melt the chocolate with the Crisco. Once melted, stir until fully dissolved. Cool slightly.
Using toothpicks or forks, dip each frozen peanut butter ball into the chocolate, let it drip a bit and place on the frozen cookie sheet; it helps set the chocolate faster. Either cover them entirely with chocolate or just leave a little "buckeye" peeking out.
Freeze or refrigerate. And serve cold – straight from the freezer or refrigerator.
And watch them disappear!